RS Hydro launch ISCO LaserFlow Non Contact Flowmeter at WWEM 2012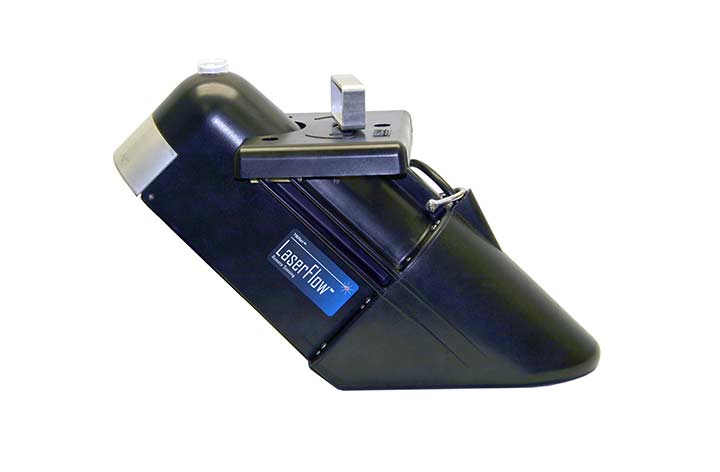 Experts in open channel flow have longed for a revolution in open channel flow measurement. Large, heavily engineered and expensive flumes have long been the bane of flow measurement specialists. For many applications with limited hydraulic head, a flume is the only option for flow measurement, especially in wastewater applications. Considering a flume is no straightforward matter whether it is in construction, performance or indeed calibration. Where existing flumes have failed MCERTS testing, Doppler meters have also been employed but these have their own disadvantages all linked to the fact that the sensor has to be wetted...
However, a solution is at last here which will revolutionise the world of open channel flow. The holy grail of open channel flow measurement would be a non-contact open channel flow meter which needs no maintenance but can also measure the velocity of the water below at multiple depths and points both horizontally and vertically. One flow meter has attempted to do this with radar but only serves to measure the surface velocity. This level of accuracy is not acceptable to most professionals. However, the ISCO LaserFlow does measure sub-surface and can be used in any open channel flow measurement application where either an existing flume or culvert/sewer exists but without the need for modifications to the channel or indeed power (if required).
Standard Features


Non-contact velocity and level measurement


Single or Multiple Point velocity measurement below the liquid surface


Robust, submersible enclosure fulfills IP68 environmental requirements.


No deadband for the measurement of level or velocity


No requirement for manual velocity profiling


Bidirectional velocity measurement


Applications


Permanent and portable flow measurement for CSO, sewer flow monitoring, compliance monitoring.


Shallow flow measurement in large and small pipes.


Wastewater treatment plant influent, process, and effluent flow measurement.


Industrial process and discharge flow measurement


Stormwater conveyance and outfall


Irrigation canals and channels


Come and See the LaserFlow in action at WWEM
The LaserFlow will be unveiled on our stand at 10:30am on the first day of the conference and will be part of an impressive and specially designed flow rig. Come and meet 'Harry Hydro' and the LaserFlow in action on stands 78 & 79 (centre of the exhibition). It will without doubt be the highlight of WWEM 2012 and you won't want to miss it. We will also be presenting a workshop at 11:00-11:30 in workshop room on Thursday 8th November 2012. Both Rob Stevens, Director of RS Hydro and Rick Dye, ISCO Global Account Manager (Flow) will be presenting this workshop giving an overview of this new revolutionary technology. If you would like to see the LaserFlow, please register your tickets for WWEM here.
For more information on the
click here.
We look forward to seeing you at WWEM...
10th Oct 2012